KNOWING THE RIGHT WAIST CINCHER FOR YOU
Hello Ladies!
You would agree with me that shopping for the right waist Cincher/trainer can be very complicated or confusing. It is not the same thing as casually walking into a store to buy a ruffled top or buying a flowy skirt from an online store. It is hard to know what size is right or perfect for your body.
At La Didor, we take it personally to help our customers with this sort of information in order to improve their shapewear experience because there are a lot of products out there. Knowing the right waist cincher for you is not as tasking as you think and should not be a big deal. Before we delve further deep into this, lets briefly talk about waist-cinching /training.
Waist training is reducing the size of the waist over time by continuous use of waist cincher. This is achieved by compressing your floating ribs. These ribs are the last 2 sets under your ribcage. They are flexible and not connected to your breastbones, hence not prone to any sort of damage. What waist cincher/trainer does is target the fat pads around your floating ribs by using the 'thermal compression' technique to reduce 2-5 inches in weeks!     See here 
An essential tip to note before thinking of what waist cincher is right for you is that you cannot use your normal clothing size to determine the right size for your body. To solve your confusion on this, these are factors you need to look out for when buying waist cincher.
1.    Your body shape: This is one of the most important factors because a waist cincher mainly comes in two types, underbust and over bust. While underbust will reach just below your bust and preferred by women with a smaller bust, the over bust will provide the best coverage and are preferred by women who have a large bust. You need to know your body shape in order to know the type to opt for. Our previous article Understanding Your Body Shape will dispel any confusion on what your body shape is. This is one step towards buying the right waist cincher for you.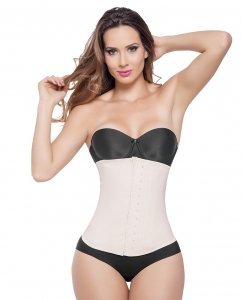 2.    Measurement: You have to measure your body accurately in order to know the cincher that is perfect for your body. A good waist cincher should fit snugly on your body. The important measurement for a waist trainer is your waist size. Measure your waist with a flexible measuring tape and make sure it follows the natural contours of your body. The tape should not be too tight nor loose. You should know the difference between tight and fit. What is tight may not be fit for you. So, you have to hold the tape quite snugly to your body and not tight. Once you have the measurement in inches, you can look up for a waist cincher sizing chart that will give you the size according to your waist measurement.
3.    Fabric: Fabric is another important factor in your choice of the waist cincher. There are a lot of fabrics available ranging from latex, cotton, rubber, velvet, satin, polyester, and so on. Latex is durable, stretchy but firm. Cotton is infused in many waist trainers to make them breathable. Rubber is sticky, itchy, and non-breathable. So, you have to settle for the most comfortable one.
4.    Length of cincher: This depends greatly on an individual's torso length and height. What is advertised as a short cincher might be an over bust cincher for someone else. Therefore, you can only get the perfect one for your body after an accurate measurement of your torso length.
MEASURING YOUR WAIST FOR THE RIGHT CINCHER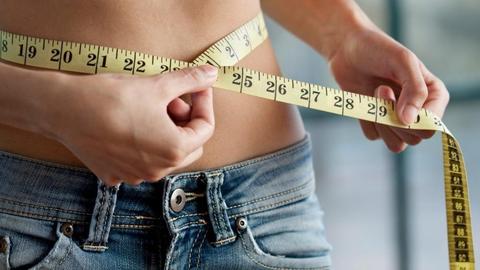 To measure your waist, you will need a flexible measuring tape, or non-stretching string and a ruler.
HOW TO MEASURE YOUR WAIST
·         Remove your clothes to get an accurate measurement.
·         Using your finger, find the top of your hips and the base of your ribcage. Your waist is the soft section between the two bony parts.
·         Stand up straight. Hold the end of the tape measure at your navel just like in the picture above and bring it to the front. The tape should fit snugly around your torso and does not have to dig into your skin.
·         Look closely at the place where the zero end meets the other end of the tape and read the measurement. The location of this meeting point is your waist measurement.
·         Double-check by repeating the measurement once more to ensure accuracy. If the second measurement is different from the first, then consider measuring again for the third time to be certain that there are no mistakes.
The right waist cincher for you is the one that matches closest to your measurement. If you prefer a tight fit, choose the smaller size if you are in-between sizes. For a comfortable fit, choose the larger of the two sizes. But please, do not pick a size that is bigger than your measurement because it will be too loose. Also, consider looking at the fabrics and picking the one that will be comfortable on your skin.
https://ladidorlingerie.co.uk/wp-content/uploads/2020/12/Clean-Work-Place-Blog-Banner.png
1260
2240
wcuk_1101
https://ladidorlingerie.co.uk/wp-content/uploads/2019/05/logo.png
wcuk_1101
2020-12-27 22:10:26
2021-01-16 10:05:53
Knowing the right waist cincher for you