A Guide to Stylish Pj Pyjamas and Sleepwear for the Perfect Night's Sleep!
Are you looking for the perfect night's sleep? You are in luck! Look no further than stylish pj pyjamas and sleepwear! Whether you're lounging around the house or headed to bed, these comfortable and fashionable pieces will make sure you get the restful night's sleep you deserve. Here at La Didor we have a wide range of stylish and comfortable pyjamas sets available for women online. From classic cotton sets to luxurious satin sleepwear, there is something for everyone. With so many options to choose from, you can find the right pjs set that will make your nights cosy and comfortable.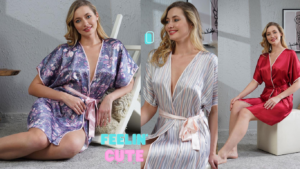 The Benefits of Wearing Comfortable & Stylish PJs
After a long day of work, nothing feels better than taking off those uncomfortable clothes and slipping into your favourite pyjamas. Pyjamas provide ultimate comfort that can help you relax and destress. Not only are they incredibly cozy, but the right set can also give you a confidence boost to get ready for the next day.
In this guide, we'll discuss everything from how to pick out the perfect pair of pjs to styling tips for a trendy look. So let's get started on your journey towards a more stylish and comfortable sleep experience! All in one piece of clothing, pjs are a cosy way to go to bed. But the question is, how can you find the perfect pair? What if you've tried on every single set at the store? Don't worry! We're here to help with our guide on how to pick out the perfect pj pyjamas.
First things first- what size do you need? If your size is not available in your local stores, try ordering online. Measure yourself before purchasing online so that you get the most accurate sizing available.
Secondly, look for a set that fits you well and has a comfortable waistline. If it is too tight in your hips or if it's too short, then go with another size to find the perfect one for you.
Choose  sweatshirts – If you want an option that's super cozy, try out a sweatshirt! Make sure they are not too tight so they can be taken off easily and put back on when needed.  When looking for pjs, make sure to pick out something that is comfortable and doesn't bind in any way.
Make sure to think about how easy they're going to be to get on and off and how soft they feel.
Essential Tips When Shopping For Quality Pyjamas & Sleepwear.
Everyone loves a good night's sleep and comfortable pyjamas can make a huge difference. Shopping for quality pyjamas and sleepwear can be tricky, however, if you know what to look for all becomes fun when shopping.
Here are some essential tips when shopping for quality pyjamas & sleepwear to ensure you get the best product for your money. From understanding the different types of materials available to looking out for special features such as breathability, these tips will help you find the perfect pjs that will provide maximum comfort while you rest .
What to look for in a quality pyjama?-Material: A good quality PJ will be made of cotton, rayon, polyester / Satin , modal or silk. Cotton and polyester are the most popular fabric because it breathes and keeps you cool. 
Cotton pyjamas are a timeless classic and have been around for generations. They are comfortable, breathable and versatile, making them a great choice for all kinds of sleepwear. Whether you're looking for something to wear on a hot summer night or something to keep you warm on a cold winter night, cotton pyjamas can provide the perfect solution. With their range of styles and designs, there is sure to be something that suits your needs. So why not invest in some quality cotton pyjamas today?
Polyester pyjamas are the perfect choice for sleeping in comfort and style. They are lightweight, breathable, and durable so you can get a good night's sleep without feeling too hot or too cold. Polyester pyjamas are also easy to care for and come in a variety of colours and styles. Whether you're looking for something to lounge around in or something that will keep you warm on those chilly nights, or cosy during hot summer  polyester pyjamas have got you covered!
Why is quality important? Quality is important because it can affect your health and overall comfortability! It can also help you feel more refreshed after you have had a good night sleep. Wearing quality sleep wear will help you feel connected to your body, and provide you with a sense .
SATIN GOWN is a luxurious fabric that has been used in fashion for centuries. It's smooth, lightweight texture makes it perfect for formal occasions such as weddings, proms, and other special events. Its silky texture and vibrant colours make it a timeless classic that will never go out of style. With its luxurious feel and elegant look, SATIN GOWN is the perfect choice for any special occasion.
For more information on how to choose the best PJ, check here!
https://ladidorlingerie.co.uk/wp-content/uploads/2023/05/Untitled-design-10.png
1080
1920
wcuk_1101
https://ladidorlingerie.co.uk/wp-content/uploads/2019/05/logo.png
wcuk_1101
2023-06-06 22:21:02
2023-06-08 09:16:21
A Guide to Stylish Pj Pyjamas and Sleepwear for the Perfect Night's Sleep!