Discover the hidden wonders of shapewear, transforming your silhouette into a flawless masterpiece. Don't miss out on the secrets unveiled!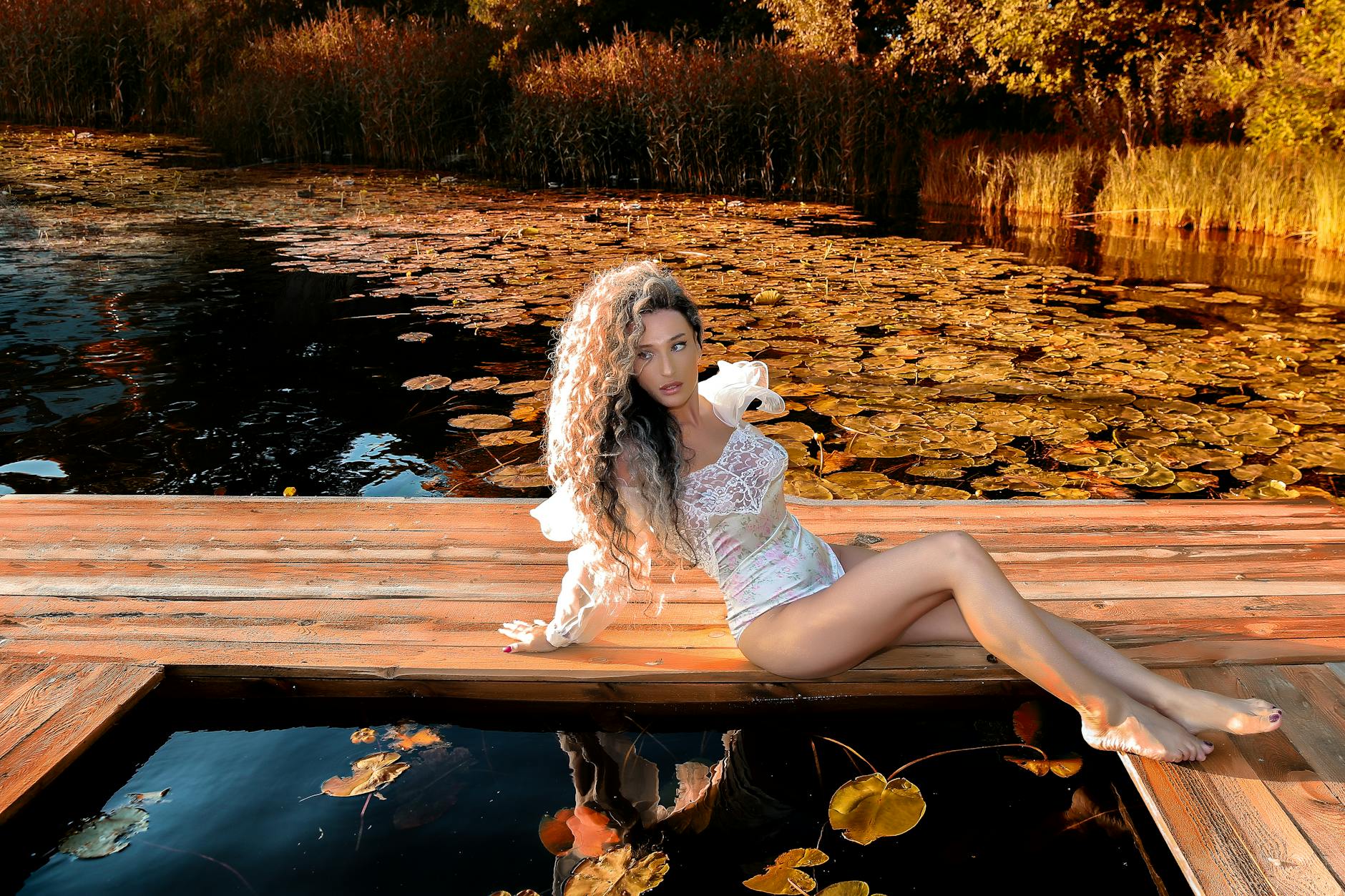 Image courtesy of Ferdinand Studio via Pexels
Shapewear has become a game-changer in the world of fashion, offering a simple yet effective way to enhance our natural curves and feel more confident in our own skin. From tummy control to thigh and butt enhancers, there are countless options available to cater to every body type and desired level of control. In this curated guide, we will delve into the wonders of shapewear, uncovering its benefits, exploring different types, providing tips for selecting the perfect fit, debunking common myths, and even offering styling tips and tricks to master the art of seamless layering. So, get ready to sculpt and shine as we unveil the secrets of shapewear for a picture-perfect silhouette!
The Benefits of Shapewear.
When it comes to boosting confidence, shapewear takes the crown. These magical undergarments are designed to smooth and contour different areas, providing a slimmer and more toned appearance. Whether it's in a body-hugging dress or your favorite pair of jeans, shapewear can help you feel like the best version of yourself. Countless individuals have experienced a remarkable increase in confidence thanks to shapewear, allowing them to rock any outfit with poise and grace.
But confidence isn't the only benefit that shapewear offers. Many pieces also provide posture correction and support, especially for those who suffer from back pain. The compression provided by certain shapewear options can ease discomfort while improving alignment and enhancing overall posture. It's like having your own personal posture coach hidden beneath your clothes!
Postpartum recovery is another area where shapewear can be a blessing. The gentle compression and targeted abdominal support offered by selected pieces can help mothers feel more comfortable during the healing process. Postpartum shapewear provides the needed reassurance and confidence to navigate those early days after giving birth.
Types of Shapewear.
Shapewear comes in an array of styles and designs to cater to different needs and preferences. Let's explore some of the most popular types:
Tummy Control.
If you're looking to smooth out your midsection and achieve a streamlined silhouette, tummy control shapewear is your go-to. From high-waisted briefs to full bodysuits, there are various styles to choose from. For those who want extra support around the waist, high-waisted briefs work wonders. They flatten the tummy, define the waistline, and provide a seamless foundation for your outfits. Opt for a medium to firm control level to ensure the desired shaping effect.
When selecting tummy control shapewear, consider your body type and the level of control you want to achieve. Hourglass figures may prefer a more subtle control, while apple or pear-shaped bodies might benefit from a higher level of compression.
Thigh and Butt Enhancers
If you want to lift and shape your thighs and buttocks, thigh and butt enhancers are the way to go. These shapewear options provide targeted control to enhance your natural curves and give you a little extra lift. Whether you're wearing a dress or jeans, thigh and butt enhancers can add an extra touch of confidence to your outfit.
When choosing thigh and butt enhancers, consider your body shape and desired outcome. Look for shapewear that provides seamless coverage and stays in place comfortably, ensuring you feel supported and secure throughout the day.
Full Body Shapers
For a comprehensive shaping solution, full body shapers are the ultimate choice. These power-packed shapewear garments smooth and contour the entire figure, creating a streamlined look from head to toe. Whether you're attending a special event or simply want to embrace your curves with confidence, full body shapers have got you covered.
There are different styles of full body shapers to suit your needs. Open-bust options are perfect for those who want to wear their own bra, while strapless designs provide versatility for various outfits. Select the level of control that best suits your preference and body type, ensuring a comfortable yet enhanced silhouette.
"Embrace your curves and unleash your confidence! Discover the transformative power of shapewear for a picture-perfect silhouette. Sculpt and Shine your way to self-love and body positivity. [insert link]" #SculptAndShine #BodyConfidence #LoveYourCurves [La Didor Lingerie]
Choosing the Right Shapewear
Now that you understand the different types of shapewear available, it's time to find the perfect fit for you: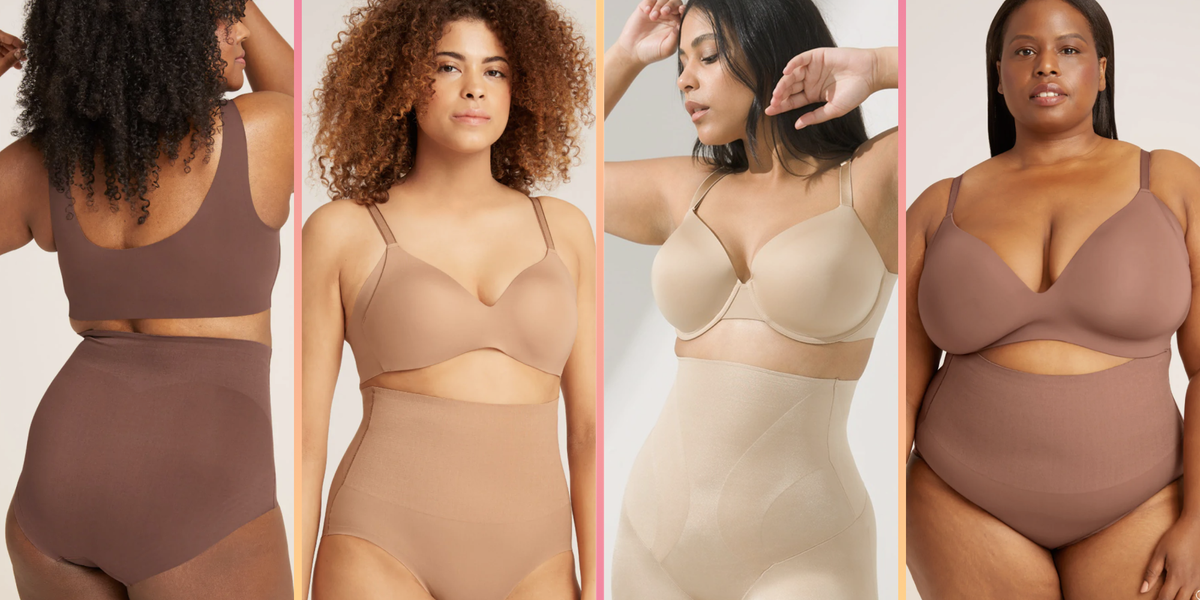 Image courtesy of www.oprahdaily.com via Google Images
Understanding Your Body Type.
Before purchasing shapewear, it's essential to know your body type. Whether you're an hourglass, apple, pear, or any other shape, understanding your body type will guide you towards the most effective shapewear options for accentuating your best features. Embrace your unique shape and choose shapewear that enhances your natural curves.
Size and Fit
The key to effective shapewear is selecting the right size. Take accurate measurements of your waist, hips, and thigh circumference to ensure you choose shapewear that fits perfectly. Refer to size charts provided by the manufacturers to find the right size for you. Remember, shapewear should feel snug yet comfortable, without causing any discomfort or digging into your skin.
Material and Comfort
When it comes to shapewear, material matters. Look for shapewear made from breathable fabrics that allow moisture and heat to escape, keeping you comfortable throughout the day. Nylon and spandex blends are popular choices as they provide stretch and flexibility while offering optimal support.
Unveiling Shapewear Myths.
Let's debunk some common myths surrounding shapewear:
Myth #1: Shapewear is only for plus-size individuals. Shapewear can benefit individuals of all sizes and body types. It provides support, enhances natural curves, and boosts confidence, regardless of your size or weight.
Myth #2: Shapewear is uncomfortable and restrictive. While shapewear of the past may have been less comfortable, modern advancements have led to the development of more comfortable designs. With a variety of fabrics and styles available, you can choose shapewear that offers both support and comfort, allowing you to move with ease throughout the day.
Myth #3: Shapewear is solely for special occasions. Shapewear isn't just for special events; it can be a part of your daily wardrobe. By incorporating shapewear into your everyday outfits, you'll enjoy enhanced confidence and support, no matter the occasion.
Styling Tips and Tricks.
Now that you're equipped with the knowledge of shapewear, let's dive into some styling tips and tricks to make the most of your silhouette: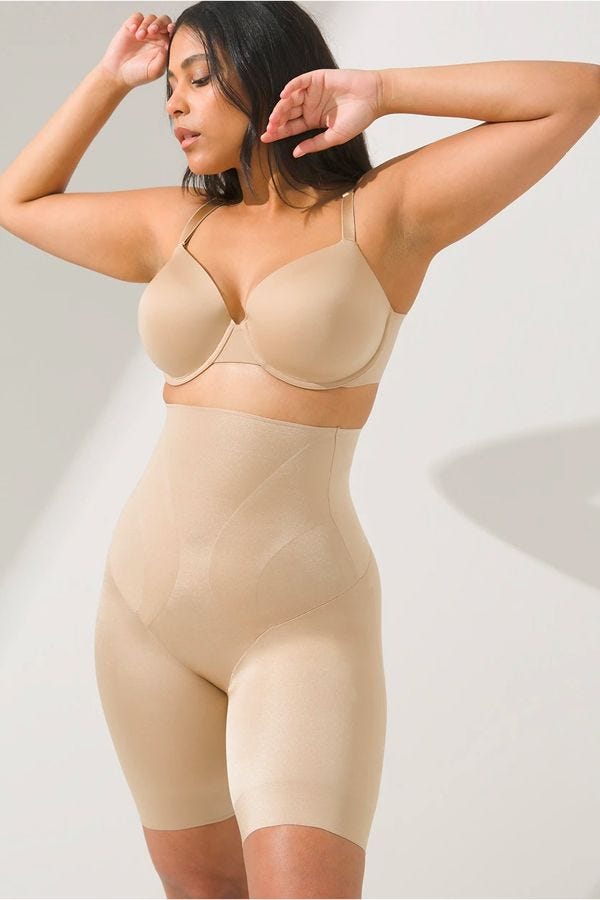 Image courtesy of www.oprahdaily.com via Google Images
Layering Shapewear with Clothing
When layering shapewear with your clothing, the key is to ensure a seamless look. Opt for shapewear that's closest to your skin tone or the color of your outfit. This will create a harmonious and natural appearance, allowing your clothes to shine while still receiving the benefits of shapewear.
Color Selection
Consider the color of your outfits when selecting shapewear. Black or nude shades are versatile options that can be worn under most clothing colors. For light-colored or white outfits, choose nude tones to avoid any visible lines or contrast beneath your clothes.
Shapewear Hacks
Unlock the full potential of your shapewear with a few helpful hacks:
Apply a light layer of moisturizer on your skin before putting on shapewear. This will make it easier to slide into place and provide extra comfort throughout the day.
For backless outfits, try using a low-back converter to ensure your shapewear stays hidden.
When wearing shapewear with leggings or tight-fitting pants, tuck the shapewear into your bra to prevent any rolling or bunching up.
In Conclusion
Shapewear is a powerful tool that enhances our natural beauty, boosts confidence, and celebrates our unique bodies. With a variety of styles and designs available, you can choose shapewear that perfectly complements your curves and meets your desired level of control. Remember to select the right size, prioritize comfort, and embrace your body shape. Whether you wear shapewear for a special occasion or as a daily confidence booster, it's time to sculpt and shine in style! More Shapewear see here
https://ladidorlingerie.co.uk/wp-content/uploads/2023/08/Beauty-Retail-Website-in-Pink-and-Cream-Colorful-Blocks-Style-2.jpg
768
1366
La Didor
https://ladidorlingerie.co.uk/wp-content/uploads/2019/05/logo.png
La Didor
2023-08-13 22:57:32
2023-08-13 22:57:32
All About Shapewear.