The Ultimate Guide to Summer Underwear – Choosing the Right Style and Fabric for Maximum Comfort.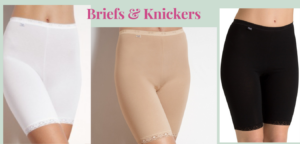 What is Summer Underwear & What Are The Benefits?
Summer underwear is a must-have for anyone who wants to stay cool and comfortable in the hot summer months. Lightweight, breathable, and moisture-wicking materials make summer underwear the perfect choice for staying cool and dry during the hottest days of the year. Not only do they provide comfort, but they also help protect your skin from chafing and irritation. In this article, we'll discuss what summer underwear is and some of its benefits.
First, we need to define the term. Summer underwear is underwear designed specifically for use during the hotter, more humid months of summer. This type of underwear usually has different features than regular-use underwear, such as loose and lightweight materials that allow heat to better escape and moisture to evaporate. The benefits of summer underwear include several things:
Summertime is the perfect time to shed some of those extra layers and enjoy the warm weather. Not only is it comfortable, but investing in quality summer underwear can provide many health benefits. From breathability and moisture-wicking properties to less bulky seams and chafing, there are plenty of reasons why you should consider making the switch to summer underwear.
Different Types of Summer Underwear – Boxers or Briefs?
With the summer season in full swing, it is time to start thinking about the kind of underwear you are going to wear. While there is no one-size-fits-all answer, there are some options that are more suitable for the hot weather. Whether you prefer lightweight boxers, boxer briefs, this article will help you make an informed decision.
Boxer briefs, which cover the waist down, generally have fewer seams than other underwear styles because they require less material to create a perfect fit. They also feature an elastic waistband that provides a snug but comfortable fit around your hips and thighs.
Finding the right fabric for your underwear can be a daunting task. With so many different fabrics available, it can be hard to know which one is best for you and your needs. Fortunately, there are a few key fabrics that offer maximum comfort and fit perfectly with summer weather – cotton boxers, bamboo briefs, and more. In this article, we will explore the advantages of each fabric and give you tips on how to choose the best one for you. Keep reading to learn more about fabrics that fit your needs and preferences for maximum comfort! Picking the Best Upholstery Fabric for You: There are some fabrics that are suitable for a variety of uses, while others are better known for certain types of settings. It's important to understand what type of fabric you need before you make a purchase.
When you make a purchase, it's important to understand the type of fabric you need. Cotton fabrics are a popular choice due to their softness, durability & versatility. They come in a variety of weights, colours & textures and can be used for both casual and formal attire. Whether you're looking for something lightweight or heavy-duty, cotton is the perfect fabric for your needs.
Tips and Tricks for Staying Cool During The Hot Summer Months.
Summer is one of the best times of year, but it can also be uncomfortable when temperatures soar. To help you stay cool during the hot summer months, we've put together a few tips and tricks that will help you beat the heat. From light fabrics to breathable materials, these wardrobe tips and tricks will keep you looking stylish while staying comfortable in hot weather. .A lightweight cotton top or dress is a perfect item to wear with shorts or jeans. It may not be the most attractive outfit, but it will keep you cool and looking stylish. while you walk the dogs. Wear sandals and sunglasses for an added dose of style that also helps protect your eyes from the sun. .
https://ladidorlingerie.co.uk/wp-content/uploads/2023/06/Pink-and-Brown-Classic-Feminine-Beauty-Website.png
650
1350
La Didor
https://ladidorlingerie.co.uk/wp-content/uploads/2019/05/logo.png
La Didor
2023-06-12 10:01:01
2023-06-12 10:01:01
The Ultimate Guide to Summer Underwear – Choosing the Right Style and Fabric for Maximum Comfort.