Discover the Perfect Lingerie Styles to Flatter Any Figure!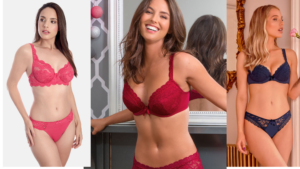 Understanding the Importance of Choosing Lingerie that Enhances Your Natural Beauty
Choosing the right lingerie style is key to feeling confident and comfortable in your own skin. Whether you're looking to accentuate curves, create a sleek silhouette, or add a touch of allure, understanding the importance of selecting lingerie that flatters your figure is essential.
We all have unique body shapes and sizes, and that's something to celebrate! The perfect lingerie style can highlight your best features and make you feel like a total bombshell. So, let's explore different styles that cater to various body types and help you embrace your natural beauty with confidence.
Remember, finding the right lingerie isn't about conforming to societal standards but rather embracing what makes you feel amazing. So let's get started on this exciting journey of discovering the perfect lingerie styles for you!
We all deserve to feel fabulous and confident, no matter what our body type is. That's where the magic of lingerie comes in! It's not just about looking sexy,(although that can be a nice bonus!) it's about embracing our natural beauty and enhancing what we've got.
Whether you're petite, curvy, or somewhere in between, there are lingerie styles out there that will flatter your figure and make you feel like a million bucks. So let's dive into the world of lingerie and discover how it can bring out your inner goddess! Lingerie has this magical ability to enhance our natural beauty and make us feel amazing.
From delicate lace bralettes to supportive satin bras, from high-waisted panties to cheeky thongs – the options are endless! Lingerie is all about celebrating what you've got and accentuating your best features. So go ahead and experiment with different styles, colours, and fabrics until you find what makes you feel like a million bucks.
Remember, it's not just for special occasions; wearing lingerie is a daily reminder to embrace your inner goddess. So get ready to unleash your confidence with beautiful lingerie that makes you feel fantastic! Whether it's a lacy bralette or a matching set, wearing beautiful lingerie can make you feel absolutely fantastic!
Finding the right lingerie for your body shape can be challenging! It's all about knowing your body type and showcasing your best features .The key is understanding your body type and embracing your gorgeous features. Once you know what works best for you, shopping for lingerie becomes so much more fun. Whether you've got killer curves or are just looking to accentuate what you've got, the right lingerie can work wonders. So, buckle up and get ready to discover some sizzling options that will have you feeling like a total bombshell!
Flattering an Hourglass Figure with Lingerie
Pick out outfits that really highlight your waist! If you have an hourglass figure, your chest and hips are on the same level. Your waist is where you're slimmest. When it comes to lingerie, use this shape to your advantage by choosing pieces that bring attention to your waistline.
Rock a basic bra with some high leg panties. Keep it simple to really accentuate and flatter your curves and proportions. Want to add a little spice? A lacy bra paired with a matching thong will put the spotlight on your perfectly balanced assets and make those curves pop!
Think about rocking a corset, babe. It's sexy lingerie that hugs your curves in all the right places, especially if you've got that hourglass figure going on. Opt for a classic lace-up corset to add a touch of romance to your look. If you want to turn up the heat even more, try out a bustier. It'll cinch your waist and give you some extra oomph in the cleavage department too!
Flattering an Apple -Shaped figure.
Apple-shaped beauty! If you're rocking' that fabulous figure with a little extra love around the midsection, fear not! We've got some juicy tips to help you flatter your apple-shaped silhouette and feel like the queen that you are. So let's dive in and embrace those curves!
If you have an apple-shaped body, your waistline and bust are the widest parts. Usually, apple-shaped people have slimmer hips, arms, and legs. To enhance your figure, go for lingerie that elongates your body shape. It'll make you look even more fabulous!
2- If you're looking to accentuate your curves, a baby doll negligee is the way to go! It's perfect for providing the midsection coverage you want while still giving off a feminine vibe. Consider adding it to your wardrobe for that extra touch of confidence and style.
3- Try a bodysuit. If you want to create the illusion of a longer torso for your apple-shaped body, go for a bodysuit with a deep V-neck. It's a stylish option that can really flatter your figure. Instead of a traditional bra and panty set, go for a one-piece alternative that will still tastefully show off some skin. Ladies with a fuller chest should consider going for body suits that have side boning or underwire. These features will provide some extra support to keep everything in place comfortably.
Choosing Lingerie to Enhance and Define Pear-Shaped Figures.
Let's talk about choosing lingerie that can enhance and define your pear-shaped figure. When it comes to lingerie for pear-shaped bodies, the goal is to find pieces that both flatter your curves and create balance. One way to do this is by using lingerie strategically to camouflage areas you may want to downplay. For example, if you're looking to minimize your hips or thighs, opt for high-waisted panties or boy shorts with a bit of tummy control. These will help create a smooth silhouette and give you the confidence you deserve.
On the other hand, if you want to accentuate your waist and create an hourglass silhouette, consider trying out corsets or waist cinchers. These can help define your curves and give you that va-va-voom look!
Look for bras with detailed straps or embellishments that will bring the eye towards your upper body. This will help create a more balanced overall look.
Remember, it's all about finding what makes you feel confident and comfortable. So go ahead and experiment with different styles, fabrics, and colours until you find the lingerie that makes you feel like a million bucks! For more information about choosing the right underwear for your body shape ,read here !
https://ladidorlingerie.co.uk/wp-content/uploads/2023/07/New-Arrivals-Fashion-Brand-Website-Homepage-Banner-5.png
1260
2240
La Didor
https://ladidorlingerie.co.uk/wp-content/uploads/2019/05/logo.png
La Didor
2023-07-09 22:30:44
2023-07-09 22:45:27
Discover the Perfect Lingerie Styles to Flatter Any Figure!