How To Choose The Right Underwear For Your Body Shape
How To Choose The Right Underwear For Your Body Shape
When you hear the word underwear, one thing usually comes to mind– comfort. The right underwear may be many things but if it isn't comfortable, it becomes the wrong underwear.
Asides from comfort there are several other factors that would determine if an underwear is right for your body shape.
One major question you have to ask yourself when picking underwear is 'what do I want this underwear to do for me?' Do I want coverage? Do I want something sexy? Do I want something pretty?
Answering these questions would make it super easy for you to decide on the right underwear for you.
Another thing to consider when picking your underwear is, does it address my weak spots? By weak spots, we mean that place that gives you concern. For some people it's their tummy, for others it could be cellulite.
The right underwear could help hide your tummy, or give your booty a more firm and defined look if those are your weak spots.
Now let's discuss each of the body types and the right type of underwear for them based on what they want their underwear to do for them and how comfortable it is.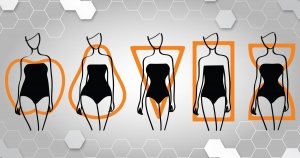 Apple Body Shape
People with an apple body shape tend to have a wide midsection with a flat bum. So they need enough coverage in the front but not in the back. Too much fabric in the back can cause the underwear to sag which would leave weird lines in clothing and worst of all, look very unflattering and no one wants that.
So when you think about the right underwear think hipsters, high-rise briefs, or high rise thongs.
If you go for low rise underwear or anything that sits in the middle, there is a big chance it might slip off. High rise underwear also helps hold your stomach in place or cause it to look smaller.
So any of the above would serve as the right underwear for you. All you have to do is pick the one you feel most comfortable in. Or you can get all, after all variety is the spice of life.
Hourglass Body Shape
The major problem with women with hourglass figures is creeping underwear or wedgies.
To tackle this problem, an underwear with more coverage at the back than the front is best. This way you have more legroom or space around your upper thigh area.
Hipsters are greatly advised for those with hourglass figures. Also recommended are briefs, just ensure there is enough upper thigh space.
Although, if you feel complete coverage is super unsexy and might prefer to go for something spicy like thongs, that's great as well. As long you feel sexy and comfortable in it, then there's nothing to worry about.
Check your body type here!https://ladidorlingerie.co.uk/11429-2/
Pear Body Shape
This body shape is very similar to the hourglass, the only difference is in their top. But from the waist down they have the exact figure, so they usually face the same problems.
This is why hipsters and briefs are also recommended for them with enough space in the bikini line area in front, so they don't feel constricted.
Inverted Triangle
This body type usually deals with issues like panty lines, and excess fabric at the back because their bum is usually flat.
So to sate all these issues and also give total comfort, undies like boy shorts, bikinis, and cheeky panties are best.
Rectangle
For rectangles, picking the right kind or kinds of underwear can be a bit tricky. As bikinis, boy shorts, and classic briefs can work for you.
All you have to do is get them in the perfect size. High rise undies like hipsters can also help reduce the risk of having excess fabric at the back.
So all you have to do is figure out which one works best for you, in terms of comfort, support, and coverage.
Fabric
When picking the right underwear for your body size, it is important to consider what the underwear is made of as well. This goes a long way in determining the amount of comfort and grip the underwear can offer.
Cotton is the king of all underwear fabric. It's breathable, soft, and has hypoallergenic properties. Wearing a comfortable underwear is important to maintaining comfort throughtout the day and chossing the rights fit and fabric can all be all it takes.
The problem is cotton can be quite expensive, so it might pose a challenge to purchase only undies made with this fabric.
Well, the good news is,  here at La Didor you do not have to spend fortune to buy the best cotton undies. Our La Didor cotton range are made in Italy with 95% cotton and 5% elastane to give you the best fit.
Other  options are  nylon and polyamide  when choosing the best fabric as they feel pretty good against the skin and easily wicks away sweat.
If panty lines are a big issue for you, when choosing your underwear, you can either go for thongs, seamless, laser cut, or silicone gripping underwear.
The right underwear is whichever one you decide on. As long as the underwear of your choosing has you feeling comfortable, happy, and confident then you have picked the right one( of course you still have to consider health risks as well).
You are a beautiful sexy goddess and it doesn't matter whether you have on full coverage underwear, briefs, boy shorts, or high rise panties, that fact will always remain undisputed.
Visit us online today and let us help you get the underwear that is comfortable ,well design with affordable prices.
https://ladidorlingerie.co.uk/wp-content/uploads/2022/11/Pink-Minimalist-Floral-Beauty-Page-Facebook-Cover-3.png
1386
2460
La Didor
https://ladidorlingerie.co.uk/wp-content/uploads/2019/05/logo.png
La Didor
2022-11-05 19:46:12
2022-11-05 19:50:39
How To Choose The Right Underwear For Your Body Shape